General Information
- Your Name:
Sebastian
- Age: 
21
- Time Zone (GMT):
GMT+2
- PC Specs: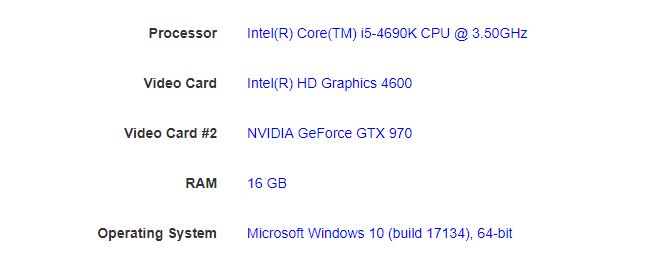 - Do you have a microphone?: 
Yes
- Latency:
~40
- What was your previous guild(s), your status in that guild(s), and why did you leave it/them?
Foundation-Draenor. My status was "Raider" but unfortunately I had to quit raiding because work got in the way. Should not be a problem now though, since I've gotten a new job!
Character Information
- In-game Character Name:
Winryrockbel


- Main Spec/Off Spec (if any):
As of right now, Survival. Although I can play whatever is needed!


- Number of Azerite Traits and Reputation level of Champions of Azeroth:
16 Azerite traits, 3,550/6,000 into Friendly with CoA.
- Post a link to your character's Armory:
https://worldofwarcraft.com/en-gb/character/draenor/Winryrockbel
- Post a a link to Warcraftlogs:
Warcraftlogs does not seem to carry-over the logs from Legion, so I do not see the point in posting them since all I am getting is a black screen
. 


- What is your past raiding experience? 
I have been raiding on and off since WotLK, although the raiding first started getting serious in WoD/Legion.
My guild at the time cleared 7/7 HC in Highmaul and then did mostly pug raiding throughout WoD as we were more of a casual guild. Then came Legion and since we took our raiding more seriously got 7/7 Mythic in Emerald Nightmare. The guild then split up due to poor structure and it's members not being able to agree on the direction for the guild. Then, before the release of the Nighthold, I joined Foundation and downed 3/10 Mythic in The Nighthold before unfortunately, as I stated earlier in the application, I had to start working evenings and could not continue. 



- How do you keep up-to-date about your [url=http://i.viglink.com/?key=9aafeaa0dc973144cc8995b68291f36e&insertId=00a17cbf6b9910fc&type=S&exp=60%3ACI1C55A%3A2&libId=jli820g70100g3d9000DLkl2htfbo&loc=http%3A%2F%2Ffuror.forumotion.com%2Ft2693-application-template&v=1&iid=00a17cbf6b9910fc&out=http%3A%2F%2Fwww.ebay.com%2Fsch%2F11700%2Fi.html%3F_nkw%3Dclass&ref=http%3A%2F%2Ffuror.forumotion.com%2Ff66-applications-for-furor-tarren-mill-eu&title=Application template&txt=<span>class<%2Fspan>]class[/url] and spec?
Youtube, internet forums such as the Hunter Discord (Trueshot Lodge), Reddit, etc. 
Guild Rules
- Have you read and understood our Guild Rules? Do you agree to follow them?
Of course!
Additional Question
Last but not least. Tell us about yourself. Who are you behind your character?
I am a 21 year old Swedish guy working part time at a local construction store. 
When I am not working I like to train, both bodybuilding and martial arts training. I am also trying to learn how to play the guitar, trying to watch anime when I have the time, reading books, and spending some time with the dog. 
 We want to make this a great guild with a good atmosphere so make sure to convince us and impress us that you are the right person for the guild. Sell yourself like you would in a job interview
I'd like to think that I am generally a nice guy who seldom really gets angry or pissed off, which in my opinion makes me a conflict-free person who is nice to be around. 
One of my redeeming qualities is that I almost never half-ass anything. If I set my mind to something, I will devote myself to it. And if it's fun, that is only for the better.
I have every class capped at 110 except DK and Druid (Druid is at 105), which makes me very flexible since I am able to level/gear basically all classes, should the guild require a spot to be filled. Should I be required to play another class/spec, I will devote myself to it without complaint.
As a player, I am prepared (consumables, tactics and general know-how) and on time. If I receive your trust and faith, I am confident that I will deliver. Currently, my Hunter is situated on Draenor-EU. This is not a problem since I will transfer realm if you decide to try me out! My goal in BFA is to achieve Cutting Edge with a guild that I enjoy raiding with, and I hope that Furor is that guild!
Thank you for taking the time